I love you two
Circus I love you
Beauties
Utopia
I love you two
Artistic pitch
I love you two is Circus I love you's second love declaration to circus. I love you two is a triptyque of duo performances accompanied by a live orchestra. In the show the focus is intimate, detailed and intense as only two acrobats are present on stage at a time. The circus tent is beautifully adapted to the complex demands of circus rigging, letting the audience experience high wire, teeterboard, head to head balancing over a ladder, a wheel duet and swinging trapeze.
I love you two premiered in May 2022 and toured France and Belgium.
---
Technical specifications
Tent dimensions : 21m round
Audience capacity : 499 persons
Welcoming conditions
Prices : 22 500€ / 3 performances during 1 week.
Accomodations : The crew is accommodated in caravans on site. The caravan camp is installed next to the circus tent. Circus I love you arrives with its own shower and toilet module, and own kitchen module.
In order to connect the modules the company needs access to fresh drinking water (gardena connection), sewer (for evacuating the caca in the toilets) and electricity (32A for the tent, 32A for the camp).
These conditions apply for our "normal" touring season, when the average temperatures stay over 10 degrees celsius.
Transports : Circus I love you charges the organizer for only one-way travel to the performance location from the previous performance location. Cost per kilometer 6,6€ for the whole convoy.
Restauration : 9€ / person / meal (12 people). The company travels with its own cook and kitchen.
School performances and educational activities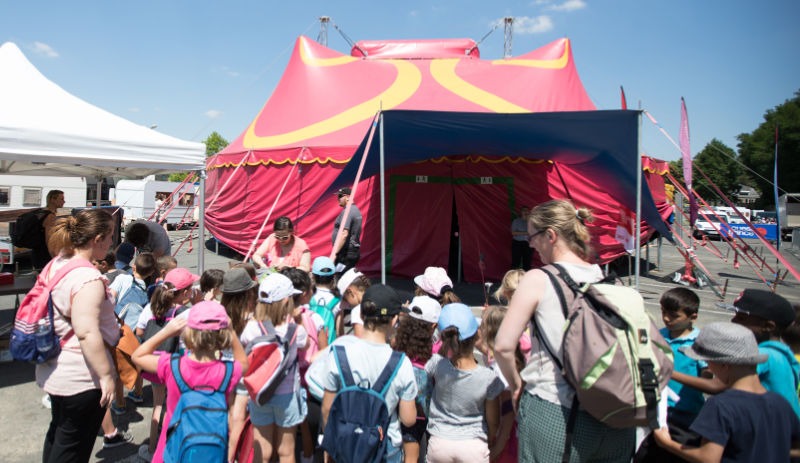 Circus I love you happily performs shows for schools. In addition to the performance, the company's producer Julia proposes educational activities to the classes that can be combined with the experience of coming to see the show. She has given a lesson on working with the circus and the introduction to the company Circus I love you for kids aged 4 up. She also proposes a guided visit to the circus tent and camp. A discussion with the artists after the show where the audience gets to ask questions from the artists is also possible.
Other events
Circus I love you proposes a concert of one hour consisting of covers, traditional songs and own compositions. Style of the music: circus balkan brass rap mix. 
The acrobats of Circus I love you can perform acts at different sites in connection with the event. For example, we have previously performed acts in a library, at the marketplace and in a party. Many things are possible, so don't hesitate to propose your visions to us.
---
Producer's contact
Julia Simon | julia@circusiloveyou.com | 0033 6 73 03 68 72
---
Upcoming performances
| | | | |
| --- | --- | --- | --- |
| | 29 September – 01 October 2023 | | |
| | | | |
| | | | |
| Andrezieoux Bouthéon (FR) | | | |
| | | | |
| | | | |
| | | | |
| Hérouville-Saint-Clair (FR) | | | |
---
Past performances
| | | |
| --- | --- | --- |
| | | |
| | | |
| | | |
| | | |
| | | |
| | | |
| | | |
| | | |
| | | |
| | | |
| | | |
| | | |
| | | |
| | | |
| | | |
| | | |
| | | |
| | | |
| | | |
| | | |
| | | |
| | | |
| | | |
| | | |
| | | |
| | | |
| | | |
| | | |
| | | |
| | | |
| | | |
| | | |
| | | |
| | | |
| | | |
| | | |
| | | |
| | | |
| | | |
| | | |
| | | |
| | | |
| | | |
| | | |
| | | |
| | | |
| | | |
| | | |
| | | |
| | | |
| | | |
| | | |
| | | |
| | | |
| | | |
| | | |
| | | |
| | | |
| | | |
| | | |
| | | |
| | | 31 August – 03 September 2023 |
| | | |
| | | |
| | | |
Circus I love you
Beauties
Utopia
Subscribe to our newsletter