I love you two
Circus I love you
Beauties
Utopia
I love you two
Artistic pitch
I love you two is Circus I love you's second love declaration to circus. I love you two is a triptyque of duo performances accompanied by a live orchestra. In the show the focus is intimate, detailed and intense as only two acrobats are present on stage at a time. The circus tent is beautifully adapted to the complex demands of circus rigging, letting the audience experience high wire, teeterboard, head to head balancing over a ladder, a wheel duet and swinging trapeze.
I love you two premiered in May 2022 and toured France and Belgium.
---
Spécifications techniques
Dimensions du chapiteau : 21m rond
Jauge : 499 personnes à raison de 50cm/personne
Conditions d'accueil
Prix : 22 500€ / 3 représentation pour la 1ère semaine.
Logements : L'équipe loge en caravanes sur le site autour du chapiteau. Nous avons nos propres modules cuisine, toilettes et douches.
Le site doit être connecté à de l'eau potable ainsi qu'à l'électricité (32A). Les eaux usées sont recueilli dans notre cuve que l'on vide une fois par jour dans le réseau public d'eaux usées. Une bouche d'égout doit donc se trouver à proximité du site (maximum 200m du chapiteau).
Ces conditions s'appliquent à notre période de tournée "normale" avec une température au dessus de 10°C.
Transports : Circus I love you  fait payer les organisateurs pour un aller simple depuis la ville précédente. Prix par km = 6,6€ pour le convoi entier. 
Repas : 9€ / personne / repas (12 personnes en tournée). Circus I love you voyage avec une cuisine et un cuistot.
School performances and educational activities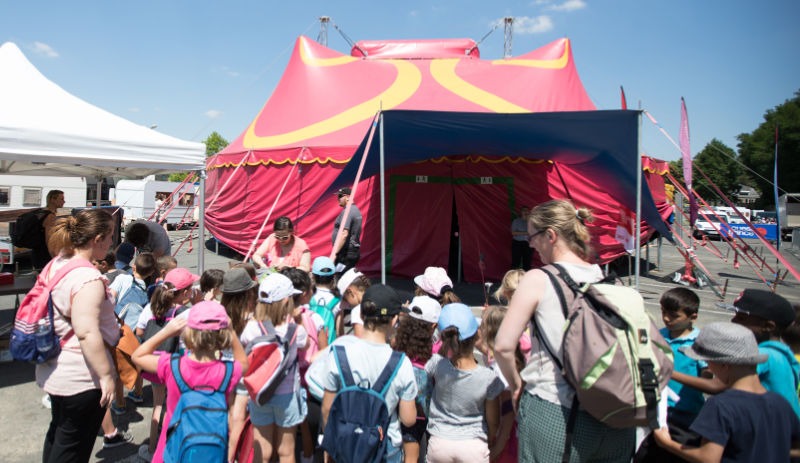 Circus I love you happily performs shows for schools. In addition to the performance, the company's producer Julia proposes educational activities to the classes that can be combined with the experience of coming to see the show. She has given a lesson on working with the circus and the introduction to the company Circus I love you for kids aged 4 up. She also proposes a guided visit to the circus tent and camp. A discussion with the artists after the show where the audience gets to ask questions from the artists is also possible.
Other events
Circus I love you proposes a concert of one hour consisting of covers, traditional songs and own compositions. Style of the music: circus balkan brass rap mix. 
The acrobats of Circus I love you can perform acts at different sites in connection with the event. For example, we have previously performed acts in a library, at the marketplace and in a party. Many things are possible, so don't hesitate to propose your visions to us.
---
Contact diffusion/production
Julia Simon | julia@circusiloveyou.com | 0033 6 73 03 68 72
---
Spectacles à venir
Filtres
Trier les résultats
| | | | |
| --- | --- | --- | --- |
| | 29 Septembre – 01 Octobre 2023 | | |
| | | | |
| | | | |
| Andrezieoux Bouthéon (FR) | | | |
| | | | |
| | | | |
| | | | |
| Hérouville-Saint-Clair (FR) | | | |
---
Tournées passées
Filtres
Trier les résultats
| | | |
| --- | --- | --- |
| | | |
| | | |
| | | |
| | | |
| | | |
| | | |
| | | |
| | | |
| | | |
| | | |
| | | |
| | | |
| | | |
| | | 31 Aout – 03 Septembre 2023 |
| | | |
| | | |
| | | |
Circus I love you
Beauties
Utopia
Abonnez vous à nos newsletters